Sberbank held a working discussion on cybersecurity in Davos
January 23, 2019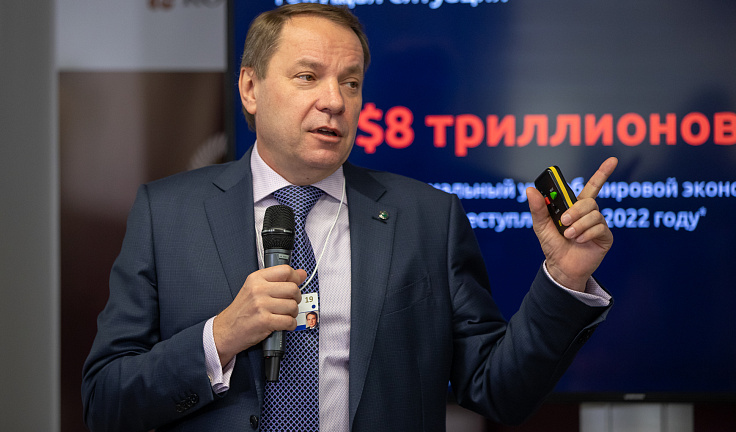 Participants discussed the importance of international cooperation at state and corporate level in the battle against organised cybercrime.

Participants of the discussion outlined the biggest cybersecurity challenges and proposed specific actions to respond to them.

23 January 2019, Davos (Switzerland) – Sberbank held a working discussion on cybersecurity Call for Collaboration: Private Sector vs Cybercrime on the margins of this year's Annual Meeting of the World Economic Forum (WEF) in Davos. Participants discussed global cybersecurity challenges and proposed ways to organize international cooperation in order to combat cyberthreats.
During his speech, Deputy Chairman of the Executive Board of Sberbank Stanislav Kuznetsov stressed that effective international cooperation must be established at state level and between private corporations in order to successfully combat cybercrime. Collaboration between non-governmental organizations will ensure the effective targeting of cybercriminals, specifically, responding to incidents and prevention through regular information sharing.
Deputy Chairman of the Executive Board of Sberbank Stanislav Kuznetsov: "It is no secret that organised cybercrime poses one of the most significant global threats. Cybercrime groups can be located on several continents at the same time and carry out waves of large-scale attacks on companies in different industries and even in different countries. According to WEF data, cybercrime is one of the four most serious global risks and may be responsible for up to $8 tln in losses by 2022. We will only be able to change this outcome by setting up effective international cooperation and regular sharing of information."
The participants of the meeting also discussed the work of the WEF's Centre for Cybersecurity (C4C), which was officially launched during last year's WEF.
The C4C is a unique platform for cooperation between the representatives of major global corporations, leading players of the international cybersecurity market, and representatives of law enforcement agencies that seeks to shape a joint strategy for combatting global cybercrime. Sberbank is one of the Founding Partners of C4C and holds a permanent seat on the Centre's Supervisory Board, which means it plays an active role in coordinating the C4C's work.
In addition, the participants talked about current cybersecurity challenges and proposed steps to tackle them. The discussion was attended by members of the C4C, senior representatives of a number of international companies, including Mastercard, Bank of America, KPMG, Siemens, Microsoft, Avaada Group, Microsoft, Cloudflare, Vostok, and many others.
Sberbank consistently develops cybersecurity interaction at global and local levels. The latest trends and solutions will be discussed by leading international experts in Moscow at the International Cybersecurity Congress (ICC) in Moscow, which Sberbank will hold on 20-21 June 2019 as part of its Global Cyber Week. In addition to the ICC, Global Cyber Week will also include OFFZONE, an international technical conference on practical cybersecurity and Cyber Polygon, a global online cybersecurity risk management training session.
The ICC is a cross-industry platform for global dialogue between representatives of government agencies, international business leaders and key experts on the most pertinent and acute issues of cybersecurity in the context of globalisation and digitalisation. The first ICC took place on 5-6 July 2018 in Moscow. It brought together more than 2,200 participants and around 700 companies from over 50 countries. ICC 2018 was also attended by Russian President Vladimir Putin.
Source: www.sberbank.ru