Methods for preventing damage caused by cyberattacks to be discussed at International Cybersecurity Congress in Moscow
April 26, 2019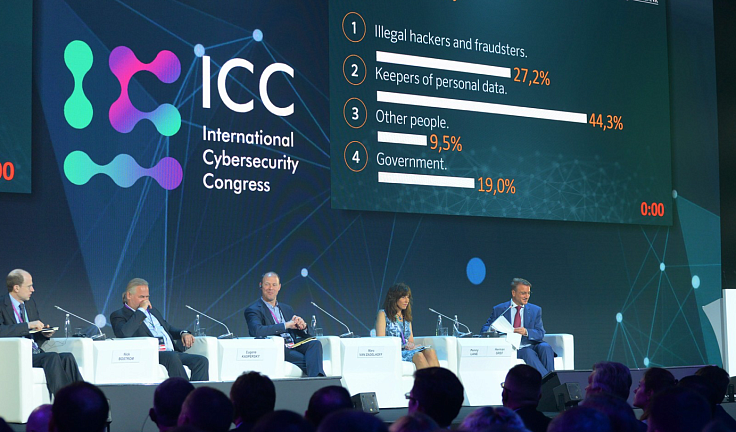 In 2018, cyberattacks caused $1.5 tln in damage to companies. In 2019, Sberbank forecasts that damage will amount to $2.5 tln.
By 2022, 1 tln devices will be connected to the internet, and by 2023, 80% of people will have a digital avatar.
Sberbank's 2nd International Cybersecurity Congress, which is to take place on 20–21 June, will focus on new threats and how to prevent them.
Sberbank's specialists forecast exponential growth of damage caused by cyberattacks in the medium term — from 2019 to 2030. Research carried out by Zurich Insurance Group and Atlantic Council states that damage caused by cybercriminals and money spent on cybersecurity may reach $120 tln by 2030. Sberbank agrees with this conclusion.
Last year, damage caused to companies reached $1.5 tln. In 2019, Sberbank forecasts that damage will amount to $2.5 tln. The World Economic Forum predicts that cyberattacks will be responsible for $8 tln worth of damage by 2022.
Specialists believe that one of the reasons for the rapid growth of cybercrime is technological trends. By 2022, more than 1 tln devices will be connected to the internet. By 2023, 80% of people will have a digital avatar. Furthermore, in 2024 more than 50% of internet traffic of households will be generated by smart devices and home appliances.
The computerisation of crime and technological progress in general are creating new legal problems. According to Sberbank's specialists, the top five legal issues of the digital state are (in ascending order of importance) compensation of damage caused by global leaks of large volumes of data (5), illegal actions performed by smart devices in the Internet of Things (4), regulation of the rights and freedoms of citizens' digital doubles (3), investigating crime in the virtual world (2) and liability for decisions made by artificial intelligence (1).
Sberbank considers that issues of cybersecurity are among the most pressing modern threats to humanity. At the bank's initiative, on 20–21 June 2019 the second International Cybersecurity Congress (ICC) will be held in Russia's capital. The event's participants will discuss and make the most important global initiatives and decisions that will make life safer in the new digital world.
Stanislav Kuznetsov, Deputy Chairman of the Executive Board of Sberbank:
"We will discuss methods for counteracting cyberattacks at the International Cybersecurity Conference, which will be attended by international experts, heads of major global corporations, and government representatives. It is important to set up high-level dialogue because one of the key principles for fighting against cybercriminals is interaction, both in terms of creating an effective and responsive platform for sharing information and developing laws and general solutions to this problem. One of the priority objectives of the congress will be to work out principles for this interaction."
The ICC is a unique international cross-industry platform for global dialogue between representatives of government agencies, international business leaders and recognised industry experts on the most pertinent and acute issues of cybersecurity in the context of globalisation and digitalisation.
The second ICC will be a key event of Global Cyber Week, an international week on cybersecurity that will be held in 17–21 June in Moscow. It will be the largest industry event in Russia and Eastern Europe. It will unite several industry forums which will be attended by representatives of Russian and foreign state institutions, international organisations and companies, as well as independent experts and researchers.
The technical conference on practical cybersecurity OFFZONE will open Global Cyber Week which will be held on 17–18 June. On 19 June, an international online training session on international business cooperation to fight against digital threats titled Cyber Polygon will be held. It will be possible to watch the participants' progress online in real time.
The first ICC was held in Moscow on 5–6 July 2018. The congress united more than 2,500 participants and about 700 organisations from more than 50 countries. Russian President Vladimir Putin welcomed the ICC's guests in his opening speech.